New Product Review:
Vitale Olive Oil Hair Mayo

Well as you may know.. I'm about 15 weeks post relaxer. Due to circumstances not under my control, i've had to hold out on my relaxer. And due to extra summer growth, i'm battling some serious new growth.
Because of my much-needed but expensive cruise trip, I haven't been able to update my Hair products, and have basically run out of the bare essentials. So starting from scratch, i'm on a mission to finalize my staple products; preferrably giving myself two options to choose from.
Because of the state of my hair; needing much protein.. I decided to try this conditioner as a protein treatment.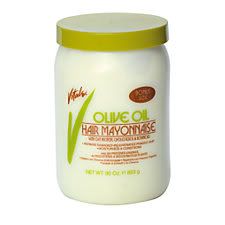 Promises:
Enriched with Natural botanical extracts, oat protein, vitamins, egg protein, and olive oil to intensively condition, moiturize, and strengthen damaged hair and over processed hair. It renews weak fragile hair, leaving it healthy looking with shine, with elasticity and moisture.
My take so far: I have only used the product once so far, and I find it very similar to the ORS Hair Mayo.--Not sure which one is best.. might have to test this out in some way for the future. I really enjoyed the way my hair reacted to this product. However my hair was in a very distressed state.. it was very dry, tangled and basically unmanageable. The instant I applied this product, I could feel how thick and rich it was. My bf loved the smell! I left it in my hair for about 60min.. even though the instructions said 10min.. I really wanted to do a deep treatment due to the state of my hair.When I washed it out, it felt like completely different hair. My hair sucked up all the moisture and ingredients, it felt full, thick and even heavy. So far so good with this product. I'll probably come back and decide how I really like it after i've used it a few more times with different methods. I heard about this product from Sunshyne from the Hairlicious site, however...she says that its a light protein. I don't know how this could be light with all of the protein ingredients in it.. so i'll have to also investigate what makes a product light or medium protein..??